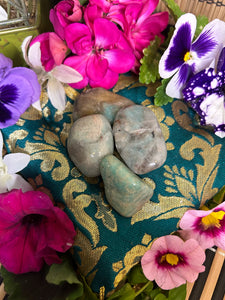 Looking for a stunning stone that's unique and beautiful? Look no further than Amazonite! This gorgeous gemstone is a must-have for anyone looking counter fear and introduce strength, courage, and truth into your frequency field. 
All of our stones are enhanced enhanced with biofeedback technology before being shipped to ensure no extraneous energies are being held within the stone.
Amazonite is a gemstone with a rich history and many unique properties. The vibrant green-blue color of these crystals is believed to be a manifestation of the energy of the Amazon River, which is said to be a source of life and abundance.
Amazonite has been used for centuries for its healing properties. It is said to calm the mind and soothe the soul, making it an ideal stone for meditation and relaxation. It is also believed to help ease communication and bring harmony to relationships.
Whether you are new to crystal healing or a seasoned practitioner, Amazonite is a must-have in your collection. Its unique energy and vibrant presence make it an excellent addition to any altar or spiritual practice.
Each crystal is one-of-a-kind and may vary in size and shape. Your Amazonite crystal will come cleansed, charged, and ready to use. Bring the healing power of the Amazon into your life with this remarkable gemstone.