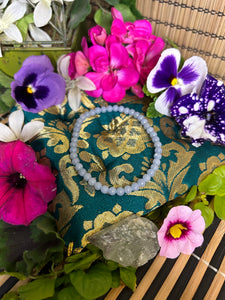 What is Angelite?
Angelite is a beautiful gemstone that is believed to bring good luck, peace and harmony. It's known for its calming blue-grey color and shimmering appearance.
Angelite bracelets are worn as a way to bring about positive changes in your life, including calm, serenity, inner peace, and love.

The Benefits of Wearing an Angelite Bracelet
Angelite is a stone that promotes balance and harmony, helping to reduce stress and anxiety. It amplifies the positive energy around you, making it easier for you to see the good in others and yourself. Angelite also encourages spiritual growth by helping you connect with your higher self so that you can move forward with confidence in whatever path you choose. 
All of our gifts are treated with biofeedback technology before being packaged.