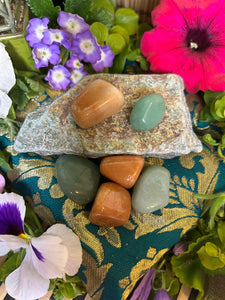 Aventurine is a stunning gemstone that is known for its beautiful green color and shimmering appearance. This stone is believed to bring good luck, prosperity, abundance, courage, purpose, compassion, grace, attention, and unconditional love back into your frequency field when you carry or wear it. Aventurine is also said to have powerful properties that can help alleviate stress, anxiety, and other emotional issues.

Why not treat yourself or someone you love to the beauty and magic of Aventurine today?
If you would prefer a bracelet. find our aventurine bracelets here
Also found in the Guiding the Way, I Believe in Me, and Unconditional Love crystal sets.