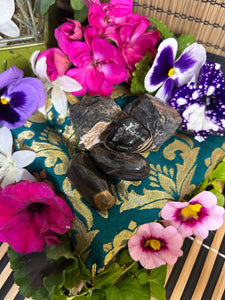 Onyx crystals are much more than just pretty stones. These metaphysical powerhouses are believed to possess a wealth of energetic properties that can help guide you towards spiritual fulfillment and emotional balance.

The black color of the Onyx crystal is thought to symbolize strength, resilience, and protection. It is believed to be one of the most grounding and protective stones, shielding you from negative energies that might be affecting you, and helping you to maintain a steady and focused mindset.

But the black onyx's metaphysical power doesn't stop there. It is thought to be an excellent stone for promoting mental clarity and focus, helping you to tap into your intuition and find your true path in life. When used during meditation or reflective moments, Black Onyx crystals can help you access deeper levels of awareness and tap into your inner wisdom.

Moreover, Onyx is regarded as a purifying stone that can help you release negative emotions, overcome anxiety and depression, and cultivate a sense of calm and inner peace. Its grounding energy can help align your chakras and facilitate positive energy flow, promoting feelings of empowerment, strength, and self-confidence.

Overall, black Onyx is a powerful tool for anyone looking to enhance their spiritual practice and promote mental, emotional, and physical balance. Whether you are seeking authenticity, guidance, or a deep sense of peace, black Onyx crystals can help you find your way.
All of our gifts are treated with biofeedback technology before being packaged.
Find black onyx in our Cleanse my Space signature gift set.