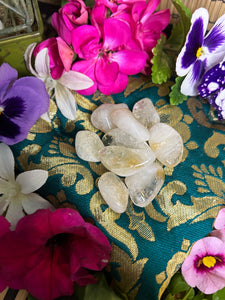 Biofeedback Enhanced Citrine Stones
Citrine crystals are the embodiment of joy and positive energy, radiating vibrant vibrations that uplift one's spirit and ignite the flames of creativity. These precious gems are blessed with the healing powers of the sun and its golden rays, fueling the solar plexus chakra with invigorating vitality and lighting up the path towards abundance and success.
As a master manifestation aid, citrine crystals can help one attract wealth, prosperity, and success into their lives by clearing away any blockages, limiting beliefs, and doubts that stand in their way. This crystal's luminous energy enhances one's confidence, self-esteem, and worthiness, allowing them to shine their brightest light and fulfill their highest potential.
Citrine crystals are also known to boost one's optimism, happiness, and overall well-being, dispelling negative emotions and replacing them with a sunny disposition. They are perfect for anyone who wishes to invite more joy, positivity, and abundance into their lives and harness the power of the sun's life-giving energy.
Whether you wear them as jewelry, carry them in your pocket, or place them in your sacred space, citrine crystals are a beautiful and potent reminder to radiate your inner light and manifest your heart's desires with confidence, joy, and gratitude.
Find citrine in our Guiding the Way Signature Gift Set.