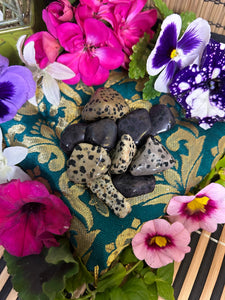 Dalmatian Jasper
Dalmatian Jasper crystals are a beautiful and unique form of Jasper that are known for their metaphysical properties. These crystals are said to help increase your sense of joy and playfulness, and are believed to help you connect with your inner child. They are also thought to help you release any negative patterns or habits that are holding you back, and to encourage you to embrace your own unique talents and abilities.
The black spots found on Dalmatian Jasper crystals are said to represent the emotional scars that we carry with us, and these crystals can help you to heal and release these scars. They are believed to help you find balance in your life, and to promote a sense of harmony and peace within yourself.
Dalmatian Jasper crystals are also said to be a powerful protective stone, and are thought to help shield you from negative energies and emotions. They are believed to help you stay grounded and centered, and to encourage you to find a sense of inner strength and resilience.
Whether you are looking to connect with your inner child, release negative patterns, or simply enjoy the beauty of these stunning crystals, Dalmatian Jasper is a wonderful addition to any metaphysical collection to help bring trust, faith, protection, and purpose into your frequency field.
All of our gifts are treated with biofeedback  technology before being packaged.
Find dalmatian jasper in our Guide me Through signature gift set.