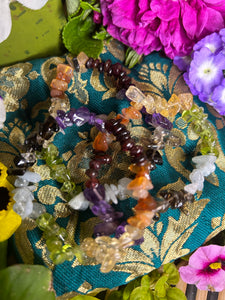 These bracelets come with their own natural healing properties of the crystals, then have been carefully cleansed with green photo light to remove any previous energies attached, carefully imprinted with Quantum Biofeedback Technology using Hertz frequency to shift the frequencies in your energy field allowing you to Believe In You.
Empowerment - Clarity - Believe - Acceptance - Balance - Purpose
Bring love, abundance, happiness and health into your life with I Believe In Me Chakra Balancing Bracelets. As the chakras or energy centres balance in your body, you will have more clarity, purpose and accept yourself for the real person you are. Release emotions that no longer serve you and empower yourself to be guided on creating the divine space your soul needs to achieve infinite possibilities.
If your choose to purchase a bracelet from this option we will carefully select a bracelet that we believe will be to your liking, if you want a specific bracelet please search under the specific title and choose your option there.