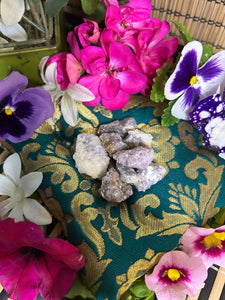 Lepidolite crystals are powerful tools for healing, meditation, and spiritual growth. Derived from the Greek word "lepidos," meaning "scale," these stunning stones are a member of the mica family and are known for their unique iridescent finish.
In metaphysical circles, lepidolite is said to be an incredibly calming and soothing stone with powerful healing properties. It is believed to promote inner peace, reduce stress and anxiety, and assist in navigating transitions and changes in one's life.
With its high lithium content, lepidolite is also thought to have strong mood-stabilizing and anti-depressant qualities. It is said to help one find a sense of emotional balance and equanimity, and to support inner growth and self-discovery.
Lepidolite has also been used as a powerful aid for meditation practices. It is thought to help quiet the mind, open the heart, and deepen one's connection to spirit.
Find lepidolite crystals in our Finding my True Power signature gift set.
All of our gifts are treated with biofeedback technology before being packaged.