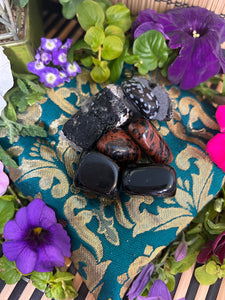 Obsidian crystals possess a powerful energy that exudes from its dark, shimmering surface. This natural volcanic glass carries the essence of the earth's raw power, grounding and connecting us to the physical realm. Obsidian crystals help to release negative energy and protect one from negative influences, creating a shield of spiritual protection. These crystals are a gateway to deep introspection, providing clarity in moments of confusion or anxiety. Obsidian helps to uncover hidden truths, strip away illusion, and connect us to our deepest desires. This crystal is a catalyst for personal growth, providing the tools necessary to transform negative patterns and embrace one's true potential. Its energy is transformative, purifying and cleansing the aura, enhancing mental clarity and illuminating the path forward. Obsidian crystals provide a wealth of metaphysical properties, making them an essential tool for spiritual practice, personal growth, and the journey towards enlightenment.
The pristine beauty and extraordinary benefits of quartz crystals are unparalleled. These gemstones are a connective force between the physical and spiritual worlds, imbued with a powerful energy that can cleanse, protect, and amplify the vibrations of the human mind, body, and soul.
Each delicate crystal is a result of a unique and precise formation process, bestowed with a natural magnificence that has captured the hearts of spiritualists and energy healers for centuries. The purity and clarity of these crystals are believed to help attune the mind to higher states of consciousness, enhancing intuition, and expanding awareness.
Find obsidian in our Guide me Through signature gift set
All of our gifts are treated with biofeedback technology before being packaged.