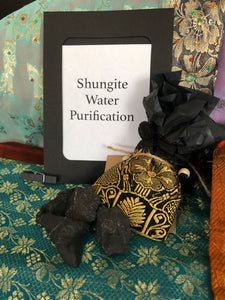 Shungite Water Purification Kit is an all natural way to purify your water, detox, and boost your immune system. Shungite is a natural stone found mainly in Shunga, Russia. The stone has a unique composition of fullerenes which kill bacteria and viruses. Since ancient times, shungite has been used to purify water, a 2018 study states that shugite can filter water by removing contaminants and organic substances like pesticides. A 2017 study also found that carbon from shungite can remove radioactive compounds from water.
Traditionally water infused with shungite has been used for: allergies, cold symptoms, sore throats, asthma, gastric issues, arthritis, kidney problems, liver problems, gallbladder issues, autoimmune disease, pancreatic dysfunction, and chronic fatigue. Users of Shungite say the stone has the ability to shield you from EMF emissions and negative energy. These Shungite stones have been enhanced with imprinted healing frequencies to provide you with the most optimum water experience. We have enhanced them with vitamins, minerals, solfeggio and nogier frequencies to keep you and your aura feeling its best.
 Rinse the raw shungite under water to clean before use. Add the raw pieces to your water glass or a glass pitcher with water and allow to purify the water for 24 hours before drinking. You can place the water container or stones in the sun or moon to heighten the purification process. Keep adding water as you use it for then your water will stay purified longer and give you the added benefits.