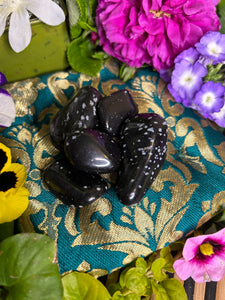 Introducing the glorious and enigmatic Snowflake Obsidian - an awe-inspiring stone that is deeply connected to the spiritual realm. This stunning crystal is a rare and powerful manifestation of the earth's energy, forged over millions of years in volcanic fire with minute inclusions of white crystal snowflakes within the dark and mysterious obsidian.
When you hold Snowflake Obsidian in your palm, you'll feel an instant surge of grounding energy flowing through your being, offering a sense of stability and strength. It has a unique healing ability that helps to transmute negative energy into positive, thereby promoting clarity and inner balance.
The white snowflakes within the obsidian impart a unique harmony to Snowflake Obsidian, making it an excellent tool for meditation and introspection. It allows you to access profound levels of self-awareness, enhancing your intuition and psychic abilities.
Snowflake Obsidian stimulates our inner wisdom and encourages us to examine our deepest, darkest fears and transform them into opportunities for growth and evolution. It has the potential to clear stagnant energies and open up new pathways to healing and positive change.
In summary, Snowflake Obsidian is an extraordinary crystal that has the power to transform lives by reminding us of the awe-inspiring beauty and power of nature. It is a testament to the endless possibilities that await us when we embrace our own inner power and connect with the earth's ancient wisdom.
Find snowflake obsidian in our Release my Fears signature gift set
All of our gifts are treated with biofeedback technology before being packaged.