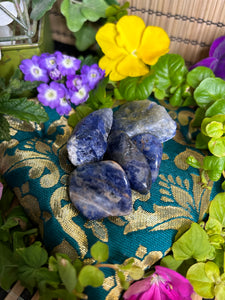 Sodalite crystals are a magnificent healing treasure that exude vibrational energies that resonate with the third eye and throat chakras. These beautiful blue and grey stones are widely revered for their profound ability to stimulate mental clarity, enhance intuition, and improve communication skills.
Sodalite is famed for its concentration-boosting powers, helping you to disregard negative thought patterns and stay focused on your goals. Its deep blue hues are believed to bring inner peace and balance to the mind, body, and spirit and cleanse negative energy from your existence. This uplifting crystal creates a sense of calm that strengthens your relationship with the universal consciousness and the divine, promoting inner wisdom and spiritual growth.
Sodalite crystals are also reputed to transform your dreams and desires into crystal clear realities by surrounding you with uplifting and loving vibrations. They encourage self-expression, helping you to communicate your deepest feelings, and path the way for a healthy flow of energy that restores vitality, enhances self-confidence, and boosts creativity.
Whether you're looking for a quick pick-me-up or seeking to deepen your spiritual journey, sodalite crystals offer a powerful tool for accessing higher levels of awareness, opening a direct line to your divine consciousness. Add this magnificent gem to your collection of metaphysical healing stones and elevate your life to a new level of clarity, focus, and fulfillment.
Find sodalite in our Releasing Past Patterns and I Believe in Me signature gift sets
All of our gifts are treated with biofeedback technology before being packaged.